Christmas for dummies
Introduction
The story of Christmas is all about restoring people to God.  Jesus is the son of God, who became a person, born as a baby.  Jesus put aside his glory in Heaven so that we might be brought back to life after our death so that we can live with God forever.
As with all great stories, we should start at the beginning.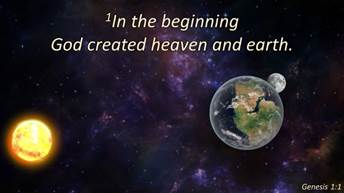 In the beginning God created the heavens and the earth.
You're kidding right?  That's the start of the Bible!
Actually no.  That really is the start of the Christmas story.
How about we let Jesus' closest disciple explain…
John 1:1 In the beginning was the Word, and the Word was with God and the Word was Goda 2who was with God in the beginning.  3All things were made by him.  And nothing that exists was made without him.  4In him was life and the life was the light of men.  5And the light shines in the darkness but the darkness doesn't understand it.
14And the Word became flesh and lived among us and we saw his glory, the glory of the only one born from the Father, full of grace and truth.
a
Genesis 1:1 In the beginning God made the heavens and the Earth.
26Then God said, "Let us make humans in our image…"